Safe Walking/Biking Routes 
UDOT's Student Neighborhood Access Program (SNAP)™ provides tools and resources to assist schools in the planning, education and encouragement of students walking and biking safely to school. Schools create plans that detail the safest walking and biking routes within a one-mile radius of the school. By helping administrators create a plan and provide a map of the safest walking and biking routes to parents and students, SNAP works to encourage the safety and health benefits of walking, as well as decrease air pollution and traffic congestion around schools. SNAP works in partnership with the national Safe Routes to School (SRTS) program, which also provides funding for projects that improve student walking and biking access around schools as well as encourage and educate students to perform this healthy activity safely.
Columbia Elementary safe walking route (shown below) has been approved by the local School Community Council,  P.T.A., and SNAP.  These are the approved safest routes for your child to walk/bike to school. (Double click to enlarge map)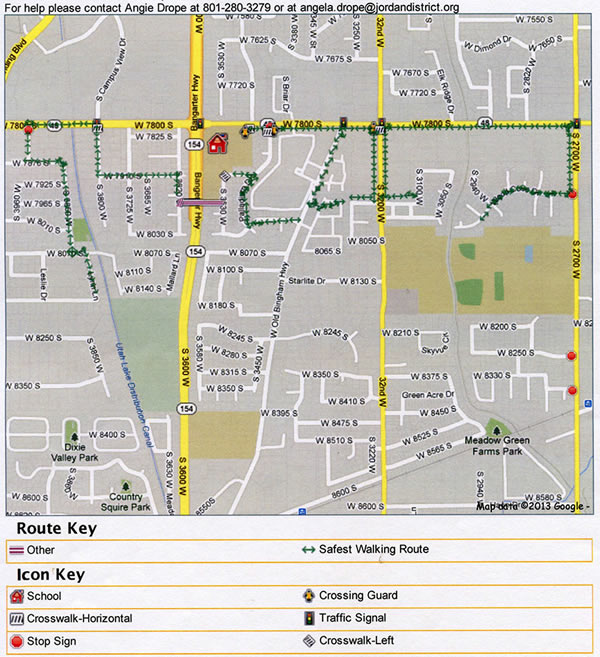 Text Description of Waking Routes:
WOOD COVE AREA:
Students should walk east along Wood Cove Drive to 2700 West, where they will turn NORTH and walk to 7800 South.  Then follow the sidewalks on the south side of 7800 South to Columbia Elementary at 3505 West.
ÁREA DE WOOD COVE:
Los estudiantes deben caminar hacia el este por Wood Cove hasta 2700 W,  donde doblarán hacia el NORTE y caminarán hasta la 7800 S. Sigan las aceras en el lado sur de 7800 S hasta la escuela Columbia en 3505 W.
LEXINGTON WAY AREA:
Follow Lexington Way to Palladium Drive.  Take Palladium Drive north to school entrance at 7880 South.
AREA DE LEXINGTON WAY:
Sigan Lexington Way hasta Palladium Drive. Tome Palladium Drive por el norte hasta la entrada de la escuela en 7880 S.
LISMORE AREA:
Walk along the east side of Old Bingham to 7800 South.  Follow the sidewalk west along 7800 South to the front entrance of Columbia at 3505 West.
AREA  DE LISMORE:
Caminar a lo largo de lado este de Old Bingham hasta la 7800 S. Sigan las aceras al oeste por la 7800 S. hasta la entrada de la escuela Columbia en la 3505 W
ELWOOD/MAPLE LEAF WAY AREA:
Follow 3850 west going north.  Go north to 7800 South.  Go east to 3800 West.  Go south to 7910 South. Follow 7910 going east to 3620 West.  Go south on 3620 west.  Follow the Bangerter sky bridge into the Columbia school grounds.
AREA DE ELWOOD/MAPLE LEAF WAY:
Sigan la 3850 W yendo hacia el  norte. Vaya hasta la 7800 S. Vayan al este hasta la 3800 W. Vayan sur hasta la 7910 sur. Sigan la 7910 yendo hacia el este hacia la 3620 W. Vayan sur en 3620 W. Sigan el Puente justo hasta la escuela Columbia.
Suggested pick up and drop off patterns: