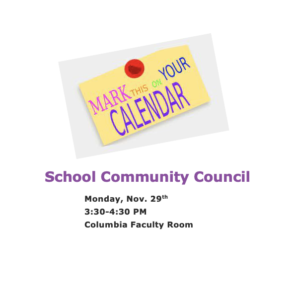 School Hours
Full day Kindergarten - 6th Grade
In person Monday - Thursday 8:55 - 3:35
Last Day of Week 9:00 - 1:00
AM Kindergarten
In person Monday - Thursday 8:55 - 11:40
Last Day of Week 9:00 - 10:55
Mission Statement
The mission of Columbia Elementary is to partner with faculty, students, and families to launch academic achievement and social confidence in a safe learning environment.  This partnership will enable our students to become happy, successful, productive citizens.
Belief Statements
We believe every child can learn.  We believe our teachers can provide high quality instruction to ensure academic success and growth for all students.
Vision Statement
We envision a team of parents, faculty, and community working together interdependently to achieve
Third, fourth, fifth, and sixth grade students have one-to-one Chromebooks for classroom use.  Kindergarten, first and second grade students have 1:1 iPads for classroom use.
Columbia strives to recognize students for their accomplishments.  We have Honor Roll Assemblies after each grading period.  Students are recognized for positive behavior, academics, attendance and punctuality.  We look for opportunities to recognize students in the classrooms, halls, cafeteria and on the playground.
We all take ownership in each child's success and academic progress.  We truly strive to make sure every child matters and achieves.
Principal Abe Yospe
801-280-3279
---
Estudiantes, Padres y Miembros de la Comunidad,
Horario Escolar
Kindergarten de todo el dia y grados del  1-6
Lunes - Jueves, 8:55 - 3:35
Viernes  8:55 - 1:00
Kindergarten de la mañana
Lunes  - Jueves 8:55 - 11:40
Viernes  8:55 - 10:55
Gracias por tomar unos minutos para conocer más sobre la Escuela Columbia.  Estoy orgulloso de ser parte de tan gran escuela.  Columbia es una escuela magnífica en la que cada niño importa y progresa.  Nuestros estudiantes saben que ellos importan y haremos todo lo que esté a nuestro alcance para ayudarles a tener éxito y progresar académicamente.
El ambiente en Columbia es agradable y seguro. Contamos con un sistema que apoya
el buen comportamiento. Nos esforzamos por ser constantes, justos y amables.
Nos esforzamos por proporcionar la mas reciente, efectiva instrucción basada en la investigación orientada hacia temas de interés del niño.  Usamos los fondos de Título Uno
para mantener clases pequeñas, contratar asistentes que ayudan a los niños, tener kinder de tiempo completo, comprar tecnología y reconocer los logros de los estudiantes.
Todos aprenden en Columbia, aún
los maestros. Los maestros de Columbia participan semanalmente en
Comunidades de Aprendizaje Profesional y aprovechan el desarrollo profesional para aumentar su habilidad para enseñar y construir una base de conocimiento.
Los estudiantes de cuarto, quinto y sexto grado cuentan cada uno con Ipad en el salón de clase.  Los alumnos de primero, segundo y tercero tienen un  set de mini-iPads por grado.
Columbia se esfuerza por reconocer los logros de los estudiantes.  Tenemos asambleas del Cuadro de Honor después de  cada período de calificaciones.  Se da reconocimiento a los estudiantes por buen comportamiento, calificaciones, asistencia y puntualidad.  Buscamos oportunidades para reconocer sus logros en el salón de clase, pasillos, cafeteria
y el patio de juegos.
Todos tomamos responsabilidad en el éxito y progreso académico de cada niño.
Director Abe Yospe
801-280-3279
[/two-thirds-first]